Take a look at 13 fascinating dairy facts about your favorite products including milk, cheese and ice cream.
Check out interesting, helpful farming facts in this infographic from GAC.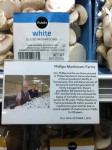 While shopping in my neighborhood Publix, I noticed something unique below the Publix brand mushrooms: a photo and story about the mushroom farmers.
To keep up with projected population growth, more food will have to be produced in the next 50 years as the past 10,000 years combined. Find out more about the efforts of today's United States farmers.
Have you ever wondered where cotton is grown in the United States, or the process it goes through to make your clothing? Find out the process from the field to fabric.
Planning your garden? Here are nine things you should grow this year.
Try one of these helpful mobile apps next time you're looking for local food.
Corn maze designs are often agricultural, educational or seasonal, but for some reason I'm drawn to the labyrinth themes featuring pop culture.