Ask the Expert
There are so many great reasons to support your local farmers markets. See 10 reasons why you should visit.
Take a look at 13 fascinating dairy facts about your favorite products including milk, cheese and ice cream.
Check out interesting, helpful farming facts in this infographic from GAC.
Did you know that February is National Cherry Month? Here are 10 things you probably didn't know about the fruit.
Find out how to grow delicious blueberries in your back yard.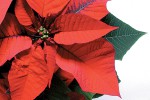 People commonly believe that if you have a pet – particularly a cat – you can't bring poinsettias into your home. However this myth is just that – a myth.
Is grass-fed beef, which is often more expensive than its grain-fed counterpart, worth the extra few bucks? Is it really more healthy or humane?
A new meat-naming system has been implemented to help consumers and cooks better understand what they're eating.
What's the difference between sorghum and molasses? How does sorghum grow? In fact, what is sorghum to begin with?
Cattle farmers are turning to candy and other alternative feed sources due to the high price of corn feed because of this year's drought.
Registered Dietician Kim Galeaz shares nutrition information and smart selection tips for healthy whole grains.
In a recent New York Times article, researchers discovered that a gene mutation that makes tomatoes uniformly bright red may also deactivate genes that contribute to taste.