Visit the Farm
Try one of these helpful mobile apps next time you're looking for local food.
Corn maze designs are often agricultural, educational or seasonal, but for some reason I'm drawn to the labyrinth themes featuring pop culture.
Blackberries ripen in June through August, depending upon where you are located.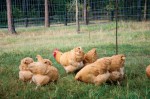 Small companies are popping up across the U.S. that allows people to rent backyard chickens before buying.
Corn mazes use new technologies to build intricate designs and promote agritourism and education.
Heading to a you-pick blueberry farm this summer? Learn how to pick blueberries, as well as some recipe ideas.
Pick-your-own strawberry farm benefits from plasticulture as well as the locavore movement.
Find out how many shirts, $100 bills and other items that one bale of cotton can produce, along with other cotton fun facts and stats.
Visit a pumpkin patch to learn why farmers diversify from traditional crops to agritourism attractions with pumpkins, fall decor and much more.
Forget fireworks and grilling, July is National Ice Cream Month. Here's the scoop on some delicious festivals around the country.
Sure, June is National Dairy Month, but what would a dairy month be without cheese?
The beekeepers at this honey farm talk about how far their bees travel, how honey is produced and the health benefits of honey, bee pollen, propolis and royal jelly.