Find healthy food substitutions to use in baking, cooking and snacking.
If you're growing asparagus in your garden, you'll have to wait three years for your first crop. But once planted, you can expect 20 or 30 years of asparagus production.
Did you know that adding a pinch of salt to your quart or gallon of milk makes it stay fresh longer? Learn more about other dairy fun facts.
The cost of a traditional Thanksgiving dinner rose slightly in 2014 compared to 2013.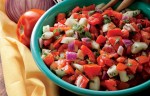 Celebrate summer with recipes using seasonal ingredients and gardening tips.
Find our favorite catfish recipes in this handy roundup.