Did You Know?
The cost of a traditional Thanksgiving dinner rose slightly in 2014 compared to 2013.
If you're growing asparagus in your garden, you'll have to wait three years for your first crop. But once planted, you can expect 20 or 30 years of asparagus production.
Get the true facts on common dairy myths.
Learn more about confusing food label definitions of common terms such as lite, low and lean.
Discover how to eat seasonally within a season.
Did you know that catfish are a delicious source of lean protein that is low in saturated fat and packed with omega-3 fatty acids? Learn more facts and statistics about this fantastic fish.
Is that yogurt past its expiration date? Don't pitch it just yet. See recommended storage times for common grocery items.
Is grass-fed beef, which is often more expensive than its grain-fed counterpart, worth the extra few bucks? Is it really more healthy or humane?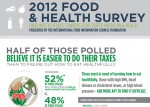 Take a look at the informative 2012 Food & Health Survey infographic profiling American's healthy living habits.
Have you ever heard of hominy? Check out some tasty recipes from our blogger friends using this unusual ingredient.
The USFRA unveiled an online tool to bring accurate information on how food is grown and raised to consumers.
Here's a look at some interesting facts about the potato, including nutritional and numbers, such as how many are grown to become frozen french fries.