Animals & Livestock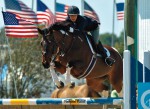 Annual horse shows add significant value to the state's economy.
Junior livestock events set new Mississippi records in 2012.
Beef cattle industry continues to boost the state's economy.
The state's top agricultural industry continues to grow.
Mississippi catfish farmers explore new technologies despite threat of outside markets.
Lauren Farms in Mississippi is on the forefront of the new freshwater prawn industry.