Top Crops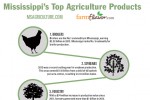 See an interesting infographic showing the top 10 agricultural commodities in Mississippi.
Growing peanut acreage in Mississippi demands more inspectors.
Mississippi is the perfect place for sweet potatoes.
Multiple stakeholders invested in forestry industry.
Mississippi horticulture sees tremendous growth.
Mississippi's forestry industry provides a significant economic impact for the state.
Mississippi's Calhoun County specialty crop of sweet potatoes contributes to the agriculture economy.
Specialty crops allow state farmers to create new markets.
Strong demand brings a surge in Mississippi peanut production.
The state's Delta Region produces near record rice yields.
Stepping down as king crop of Mississippi, more of the state's cotton farmers are planting corn and soybeans.
Soybeans among Mississippi's top agricultural commodities.