This simple tomato sauce recipe can be used for pizza or pasta.
Difficulty Rating:
Easy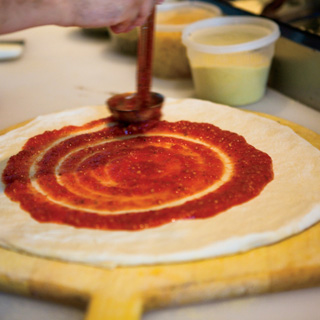 Total Comments: None
Post a Comment
Ingredients
4 tablespoons extra-virgin olive oil
1-2 cloves garlic, diced small
2 medium onions, diced medium
1 large can (28 ounces) peeled Italian-style plum tomatoes, in juice
1 small can (6 ounces) tomato paste
6 ounces dry red wine (use the empty tomato paste can as a measure)
1 teaspoon oregano
fresh basil
Sea salt and ground pepper, to taste
sugar (a few teaspoons if necessary)
Tips & Notes
Freeze it in ice cube trays, and you'll have small amounts always handy.
Instructions


Whirl tomatoes into chunks in food processor or blender.


Sauté garlic and onions in olive oil until light brown. Add tomatoes, paste and wine. Add oregano and other spices. Simmer 1 hour.


Taste for bitterness; blend in a little sugar to correct.



Recipe From: Farm Flavor - www.farmflavor.com
http://farmflavor.com/homemade-pizza-sauce/