A famous chocolate chip cookie from Neiman Marcus, with an urban legend that a customer once paid $1,000 for the recipe.
Yield: 12-15 large cookies
Difficulty Rating:
Easy
Recipe From:
Tennessee Home and Farm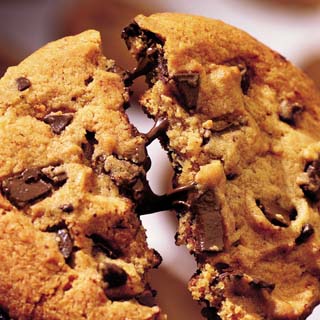 Total Comments: 1
Post a Comment
Ingredients
½ cup unsalted butter, softened
1 cup brown sugar
3 tablespoons granulated sugar
1 egg
2 teaspoons vanilla extract
½ teaspoon baking soda
½ teaspoon baking powder
½ teaspoon salt
1 ½ teaspoons instant espresso powder, slightly crushed
1 ¾ cups flour
8 ounces semisweet chocolate chips or chocolate chunks
Tips & Notes
The story behind these cookies goes that a Neiman Marcus customer asked for the recipe for the delicious cookie served in the tea room of the exclusive store, and later noticed that she had been charged – the story varies from $100 to $1,000 – for the recipe. The store insists that the story is made up. The truth is, the cookie is terrific, and the recipe is free.
Instructions
Cream the butter with the sugars until fluffy.
Beat in the egg and the vanilla extract.
Combine the dry ingredients and beat into the butter mixture. Stir in the chocolate chips.
Drop by large spoonfuls onto a greased cookie sheet.
Bake at 375 degrees for 8 to 10 minutes, or 10 to 12 minutes for a crisper cookie.
Recipe From: Farm Flavor - www.farmflavor.com
http://farmflavor.com/neiman-marcus-chocolate-chip-cookies/