Parfait is French for "perfect," and so is this dessert, layered with blueberries, peaches and mascarpone cream.
Yield: 4 servings
Difficulty Rating:
Easy
Recipe Created By:
Kristen Winston
Recipe From:
Tennessee Home and Farm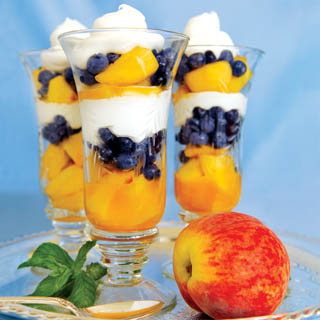 Total Comments: 5
Post a Comment
Ingredients
½ pound mascarpone
½ cup heavy whipping cream
¼ cup sugar
1 teaspoon vanilla extract
2 cups fresh sweet peaches, peeled and coarsely chopped
1 pint fresh blueberries
sprigs of fresh mint leaves
Instructions
In mixer with whisk attachment, beat the mascarpone until creamy.
Add whipping cream, sugar and vanilla. Beat until thick and mixture stands in peaks.
Assemble in tall stemmed glasses by alternately layering peaches, blueberries and mascarpone cream. Garnish with a sprig of mint leaves.
Recipe From: Farm Flavor - www.farmflavor.com
http://farmflavor.com/peach-parfait-with-blueberries/